Terrace Rural
Community Health Service Area
Health Profile (Version 1.0)
Community Health Service Areas (CHSAs) in British Columbia (B.C.) are administrative bounds nested within Local Health Areas (LHAs) as defined by the B.C. Ministry of Health. This CHSA health profile contains information about the community's demographics, socio-economic and health/disease status as represented through various community health indicators. The purpose of CHSA health profiles is to help B.C.'s primary care network partners, public health professionals and community organizations better understand the health needs of a specific community and to provide evidence for service provisioning and prevention strategies.
Terrace Rural (CHSA 5172) is 13,200 km² in size and located in northwestern British Columbia. It is comprised of the following First Nations communities: Gitwangak, Gitanyow, and Kitselas. Provincial parks include the following: Seven Sisters, Gitnadoiks River, Sleeping Beauty Mountain, Lakelse Lake, Hai Lake'Mount Herman, Kleanza Creek, and Kitwanga Mountain. Geographical features include Nass Ranges, Hazelton Mountains, and the Skeena River.[1]
---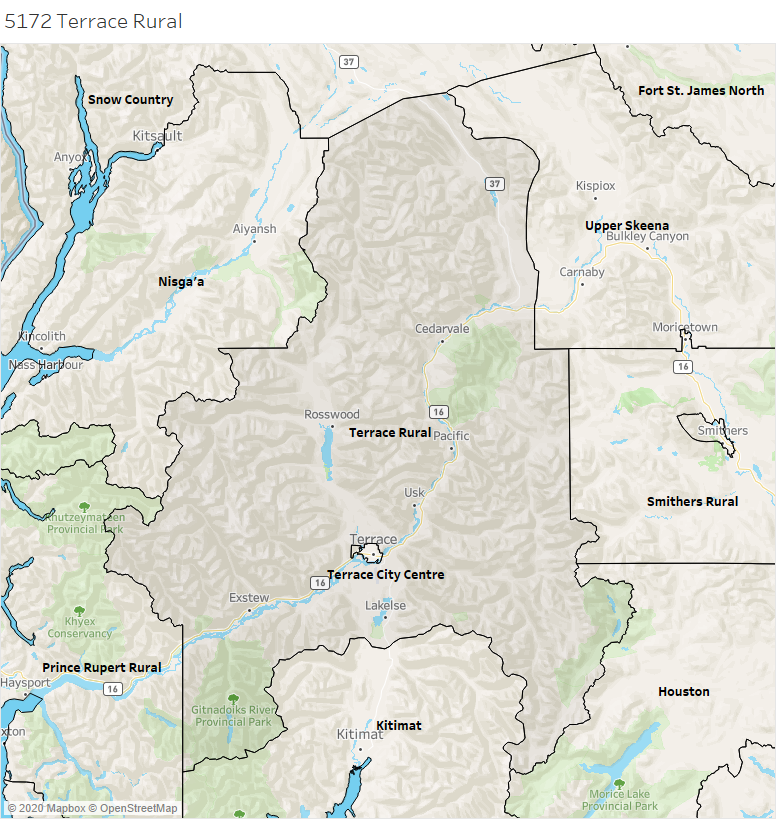 Provided by Health Sector Information, Analysis, and Reporting Division, B.C. Ministry of Health
Health Authority:
5 Northern
Health Service Delivery Area:
51 Northwest
Local Health Area:
517 Terrace
Community Health Service Area:
5172 Terrace Rural
Primary Care Network community:
N/A