Colwood
Community Health Service Area
Health Profile (Version 1.0)
Community Health Service Areas (CHSAs) in British Columbia (B.C.) are administrative bounds nested within Local Health Areas (LHAs) as defined by the B.C. Ministry of Health. This CHSA health profile contains information about the community's demographics, socio-economic and health/disease status as represented through various community health indicators. The purpose of CHSA health profiles is to help B.C.'s primary care network partners, public health professionals and community organizations better understand the health needs of a specific community and to provide evidence for service provisioning and prevention strategies.
Colwood (CHSA 4121) is 18 km² in size and is part of the Capital Regional District located on southern Vancouver Island. It is comprised of the city of Colwood. Geographical features include Esquimalt Lagoon, Esquimalt Harbour, Coburg Peninsula, and Colwood Lake. Major establishments include Royal Roads University, Royal Roads Military College, Hatley Memorial Gardens, and Fort Rodd Hill and Fisgard Lighthouse National Historic Site.[1]
---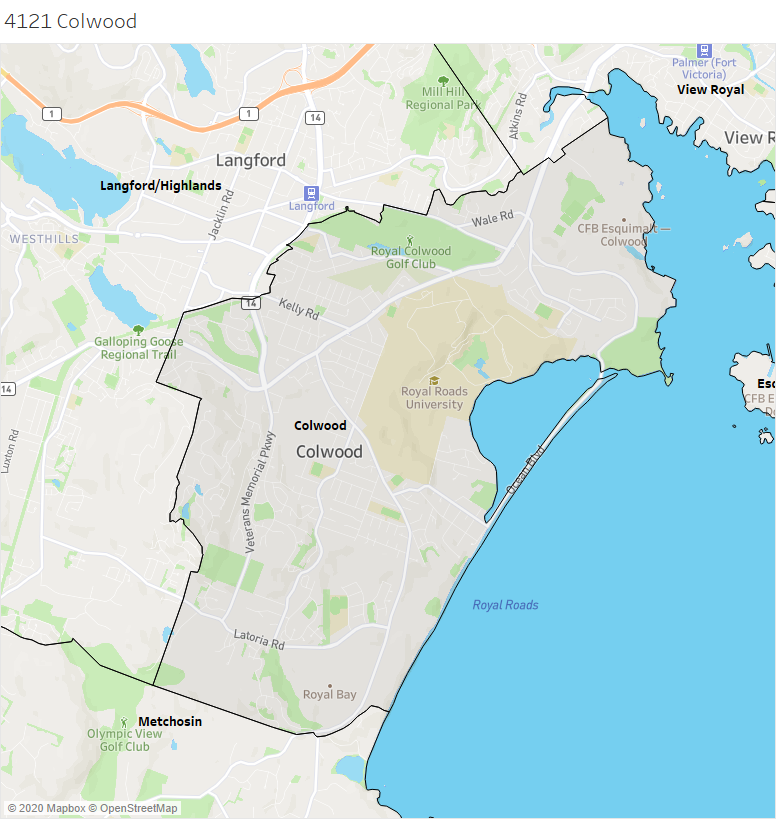 Provided by Health Sector Information, Analysis, and Reporting Division, B.C. Ministry of Health
Health Authority:
4 Vancouver Island
Health Service Delivery Area:
41 South Vancouver Island
Local Health Area:
412 Western Communities
Community Health Service Area:
4121 Colwood
Primary Care Network community:
N/A